The Power of the Cross (1 Corinthians 1:18-25)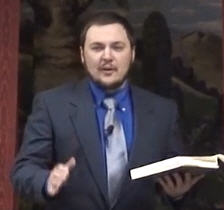 Laredo Shannon, September 3, 2017
Part of the
stand alone sermon
series, preached at a
Sunday Morning
service
The sacrificed Christ didn't make sense to the wise men of Bible times, nor does it make sense to those today who professing to be wise, have become fools.

About Laredo Shannon:
A student at the Sunset International Bible Institute that calls Matador church of Christ his home congregation. He is married to Andrea Crowley and they have one son, Callahan.
ERROR: The IP key is no longer supported. Please use your access key, the testing key 'TEST'