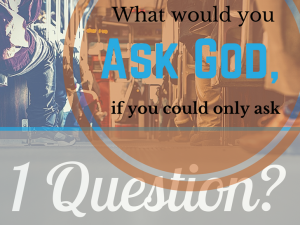 If you could only ask God one question, what would it be? Perhaps it would be, "Why do good people suffer?", or maybe, "How was the world made?". It might even be, "What is the meaning of life?" Whatever your One Question is, we want to invite you to come and explore the Bible as we look for answers to our questions.
Mike Crowley, Jr. of Midland, Texas will be the featured speaker at the Fall Gospel Meeting at the Matador Church of Christ. Beginning on Sunday, October 1 and running through Wednesday, October 4, Mike will be using the Bible to try and answer some of the questions he receives from the community.
You are encouraged to consider what your One Question would be and to either drop your question into the One Question box at the library in Matador, in the box in the lobby of the Matador church of Christ, by handing it to any member of the Matador church of Christ, or by sending your One Question to Mike directly by emailing him at:
questions@matadorchurchofchrist.org
Please join us for this intriguing and unusual presentation. It's sure to get you searching your Bible for a greater understanding of God's Word.
Schedule:
Sunday, October 1 – 10:00 am & 11:00 am
followed by a Potluck Luncheon
Sunday Evening – 6:00 pm
Monday, October 2 – 7:00 pm
Tuesday, October 3 – 7:00 pm
Wednesday, October 4 – 7:00 pm
Supper provided each evening